I'm in one of those pissed at the world moods in which getting anything productive accomplished is a struggle. But somehow, it makes it the best time to catch up on at least one tag that a lovely blogger was kind enough to tag me in. I could use a little feminine appreciation to brighten my day so here we go ladies and gents:
The very awesome blog Livid Lightning is getting my ping back since she introduced me to this tag. 😀
Rules (I will try to follow, but no one's the boss of me on my blog)
PingBack to Kate at Melting Pots and Other Calamities and pingback to a post of hers (I guess she's the creator of this tag thingy? Good for her!)
Answer the questions (That's the point of these tags thingys, no? See below!)
Choose female characters from books, movies, TV, anime, webtoons, etc. (I'll try my best)
Tag as many people (We'll see…)
Have fun! (No doubt)
Questions:
Name a heroine you like but whom you feel is always overshadowed by the male characters in the story.
Ka-Poel from the Powder Mage trilogy. She's from a tribe and is essentially Taniel's personal spotter and later servant but she's so much more than that. She's a force of her own with her own magic and tricks up her sleeve. She's clever and feisty and never lets Taniel down.
For that matter, name a heroine whom you feel is always overshadowed by the other female characters in the story.
Peryn's little monster sister. That's right, she's over shadowed enough that I don't remember her name. But she's a great character, she gets some show time but I would have liked to see her even more throughout the series.
Name a character who had potential but was greatly underutilized in her story.
Constance Stapleton comes more into focus in this installment of the Golgotha series, however, I still think she's being underutilized though it appears that may change in the future.
Name a female character who you either find better in her book than her movie, find better in her movie than her book, or whose portrayals you find equal.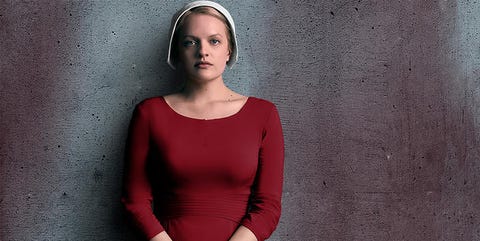 Offred (June) from The Handmaid's Tale is SO much better in the TV series than the book. In the book, she's actually rather bland and kind of hard to read from her point of view. In the show, her rebellion, her determination and her overall character keep me coming back again and again.
Name a character who you want more backstory on.
Adelia Reyes, the femme fatale assassin. I just want more of this whole universe in general!
Name a character with traits you feel are sadly overlooked by everyone.
Arya Stark is the very first that comes to mind. Although, it's usually her enemies that overlook her traits and they pay the ultimate price. But,I feel her own siblings overlook her quite often as well.
Name a morally grey character. (Villain or anti hero!)
The Morrigan from the Iron Druid Chronicles. She does some pretty shitty things but a lot of the time she also tips off Atticus to danger. Sometimes, she's the danger.
A character you're stunned isn't more famous.
Stealing this answer from Lightning. Hail is such a bad ass heroine, but somehow I don't know that many people who have read this series. It's a high recommend from me if you enjoy space operas.
A character from a piece of fiction you're amazed isn't more famous.
Temple grew up during the time of zombies. She's been on her own for most of it. This is a great story of a teenager surviving the zombie apocalypse on her own, fighting both the dead and the living.
Fantastic Female Bloggers
I'm going to try to tag people Lightning didn't already tag so we can spread this fun out a bit more, but don't feel obligated to participate by any means. This is meant to be fun!